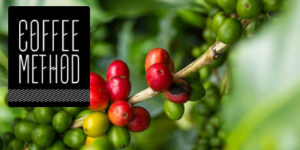 KENYA NYERI HIRIGA AA – DARK ROAST
Our first month out, we showcased Kenya at a medium roast. At that time we discussed roasting Kenya at a light, medium and dark roast and calling it a straight month of Kenya coffee. Like the Peru, this coffee tasted great at each roast along our roast spectrum. At the dark roast, Kenya has a sharp, winey taste with a pronounced fruity undertone as it steps away from the medium roast flavors of toasted nuts and sweet caramel. Before the year ends, look for Kenya in a light roast, which will be a contrast to this month's roast which produced a heartier cup of coffee.
ADDITION
Cocoa beans are about 3 times the size of coffee beans and will not go through the burr grinder easily. We recommend you crush them by giving them a quick pound with the bottom of your coffee mug before adding them to the grinder. We find that the addition of cocoa beans to your ground, instead of chocolate syrup, will add a nice subtle flavor of cocoa chocolate to your coffee. The cocoa beans included this month are very dark chocolate and not very sweet. They can be eaten on their own like a nut with shell and all, so you can add the entire bean to the grinding process.
Let's start a Free Trial
Checkout Our Journal